Play-Doh Favorite Color 4 Pack $1.99 at Hasbro
Every so often, the Play-Doh colors get totally mixed and thrashed, so I'll be picking up some new cans of the Doh for easy, cost-effective stocking stuffers. I'm also a fan of giving as gifts in goody bags in the endless parade of birthday parties.




Tooth Tunes Toothbrushes for Kids & Teens $9.99
Everyone has to receive a new toothbrush in their stocking, and this one is the coolest! Each Tooth Tunes plays a song that lasts the duration of a good solid tooth cleaning, teaching kids how long is long enough for optimum hygiene and health. Choose standard kids songs or themes from The Lion King, High School Musical and more.






Dixon Ticonderoga's My Hold Right Pencil, box of 3 $3.89 at Office Depot These new pencils are especially designed for little hands to develop a comfy and correct pencil grip. Triangularly shaped and with stickers to help designate placement, they are great for motor skills development in kids aged 2-5.



Little People Lil' Drummer Boy Set $12.99 at Fisher-Price.com
Add the little ba-rump-pum-pum boy to your child's vast collection of Little People or pull him out for many Christmases to come. He comes with his own barn and five Bethlehemish animal friends.







PLAYSKOOL Shake, Rattle & Roll teether at CVS $4.49
This new teething toy stimulates baby's senses with bright colors, a variety of textures and three teethable rolling shapes; it is easy for baby to grasp, helps develop hand/eye coordination and provides sounds that will entertain and distract babies from the pain of teething. Available exclusively at CVS.







Guess How Much I Love You Baby Spa Sampler Pack by Dionis Collection $10
Dionis offers a line of baby products composed of nurturing and soothing herbs and botanicals that are safe to use on all skin types, even sensitive. The charming nut brown hares of the beloved children's book grace the labels - perfect for gift baskets and diaper cakes! Included in the zippered bag are 2 oz. travel sized samples of moisturizing baby lotion, gentle baby wash, soothing baby powder and nourishing baby oil.




GIVEAWAY
Wett Giggles Kids Soaps $5 or $10
Adorable natural glycerin handmade soaps are made with essential oils and shea butter. Choose your child's fave animal friend and whether he'd like a bath toy ($5) or nail brush ($10) to use when the soap fun is done. Each soap comes in its own little soap dish and orders of $20 or more receive 15% off. Leave a comment below and one lucky reader will receive a Wett Giggles Kids Soap for his or her child's stocking!



The Crayon Keeper at Fairy Princess Clothing
$12
Eureka! I've found it - the perfect and adorable birthday stocking stuffer or small present for a niece or goddaughter. It stores 64 crayons, looks like a cute little rainbow purse and can be personalized with the moniker of your favorite princess for an additional $10. Machine washable. Original. Reasonable!
Prang Metallic
Art Markers, Set of 6 $5.2
9 at Office Depot
The metallic, vibrant colors of these markers are totally unique. Although technically they belong in my kids' craft area, I love swiping these markers for addressing dark holiday envelopes. Unlike traditional metallic ink, there is no shaking needed, no blots and the ink is archival quality for photo books or scrapping. A great stocking stuffer for kids, teens and crafty adults.
Dixon Ticon
d
erog
a's Noir Pencils, 12 pack $2.89 Office Depot
Can you tell I LOOOVE school supplies in the stocking? These pencils are super cool for teens, while still carrying the important #2 lead for ScanTron tests. The black wood and holograph design work for boys or girls, goths or fashionistas alike.
FREEBIE
Billy Brown Audio Adventures for Kids on CD at Giddio $10.99
We love these award-winning stories on long car rides to visit family. The Billy Brown audio adventures are professionally produced with full cast voice acting, music, and sound effects that hearken back to the days of radio dramas and really enthrall our kids' imaginations. Targeted for kids age 3-7, but all ages will enjoy these CDs.
A FREE download of Giddio's award-winning audio adventure "Billy Brown And The Mystery Package" is available at www.Giddio.com!
GIVEAWAY
Swiggies W
r
ist Water Bottle $12.95
Get thirsty when jogging or playing sports but hate lugging a water bottle? Check out Swiggies, the bracelet water take alongs that allow you to bring 8 oz. of hydration with you anywhere! Perfect for long runs, soccer games, hikes.
One lucky commenter will win their own pair of Swiggies, so comment below!
Tappening BPA-free Green Water Bottle $14.95
The money we as a nation spend on bottled water is astounding, with tap water free, regulated and healthier for us and our children. Make a commitment to "Think Global, Drink Local" with the stylish and green 32oz. Tappening water bottle. Great for a gym bag, diaper bag and of course, your loved ones stocking!
GIVEAWAY
Bring Your Own Bug Reusable Totes by Eco-Bags $14.99
Get your teen into using, or reusing, an eco-friendly bag when she cruises the mall, or keep for yourself. The cute totes by Eco-Bags are made from recycled and all natural fair wage/fair labor/fair trade cotton and 20% of proceeds from each bag purchase is donated to MS research. With a fun "Bring Your Own
Bag
Bug" slogan and a choice of butterflies, spiders or other characters on the front, they're stylish too.
Leave a comment and one lucky reader will win their own butterfly bag!
GIVEAWAY
Shains Ware Bracelets with 60 pieces of flair $12
Shain's is a fun, cool eco-friendlyway for your teen or tween to express themselves. Elements include the alphabet and cute icons.
Shains will also be sold at the Crab Soup Cook-Off in Annapolis at the Naval Academy Stadium on Saturday, Nov 22 and can be purchased at Be Beep in Severna Park and at Tree Tops Kids in McLean and Potomac.
FIVE lucky commenters will win one - leave your comment and it could be you!
GIVEAWAY
House of Jerky All Flavors Jr. Variety Pack $36.99
Have a lot of guys' stockings to stuff? Pick up this amazingly yummy variety pack of individually packed, healthful jerkies and be done with it. There are spicy, turkey, beef, teriyaki and even more exotic flavors like buffalo to make their mouths water.
Leave a comment below a
nd two winners will each win 4 oz. of Jerky!
Dress Up Your Friends Magnetic Frame Set
from Fridgedoor.com $9.95
Your family members will love this way to mock dear friends' cheesy holiday cards, photo save-the-dates and baby announcements. Go ahead, stick a sombrero on that new sister in law!
GIVEAWAY
iFr
ogz iPhone cover $14.99
Keep that iPhone 3G in pristine condition and show your styley side with the iFrogz case! The 100% silicone cases offer a smooth, high tech design and are treated with a proprietary anti-dust technology to help it repel lint and dirt. Includes a screen protection film. Also has a little hole in the back so you can still snap pics. Fancy! (
Tiffany of The Pajama Squid
has one in red and loves it. And you know how stylish is she!)
Leave a comment for a chance to win your own iFrogz iPhone cover in gunmetal grey!
iStik magnetic iPod carrier $24.95-$26.95
The ultimate iPod accessory, iStik's fastening system is the ideal way of putting your music where you want. Encase your iPod (2nd or 3rd generation) in the iStik bracket and attach it to virtually any part of your outfit, similar to the fastening of a magnetized name badge. The iStik is able to keep up with any activity using eight high-tech magnets to secure your iPod.
Pampered Chef Ice Cream
Dipper $14.50
I've had mine for years and about once a year I gift one to an ice cream lover, newly married couple, college kid just equipping his first kitchen. Everyone loves it. It instantly warms in your hand thanks to a nontoxic defrosting liquid core, and can therefore scoop up even the hardest packed frozen treats. It cuts down on freak outs from impatient kids (or adults) screaming for ice cream.
The Amazing Bottle Popper - Japanese Beer
Bottle Opener $7.99-$9.99
Cousins brought us one of these amazing beer bottle openers from Japan six years ago, and at parties it never fails to amaze someone. We've even had to stop people people from pocketing this amazing tool. You can hold a baby on your hip and open a beer with one hand. Handy! The plain bottle popper is $7.99, add your fave team or beer brand logo for an extra $2.
Hot Sox Women's Novelty Sox $6 at Bare Necessities
So, I like skulls and scotty dogs and polka dots on my socks. Go ahead and laugh. At least I'm not trotting them out on an acrylic reindeer sweater vest or something. I like Hot Sox for their perfect blend of cotton and polyester and the thin but durable weight. Perfect for showing a peek of your loved one's dorky side when she is otherwise chicly dressed.
GIVEAWAY
Cosabella Forever Lo
w Rise Hotpant at ChicMystique
There's three things I can't stand: the thong, overpacking on trips and VPL. Which is why I dig Cosabella panties. These hotpants are comfy and eliminate all lines beneath clothes or above waistbands with no wedgie required. The lightweight mesh is perfect for travel. You just handwash at night, hang up and they are clean and dry in the morning. Is it a sign of age that I actually LIKE receiving socks and underwear for Christmas?
Leave a comment and you could receive your own pair of sensible AND sexy Cosabella undies!
Vanity F
air Hi-Cu
t Brief at HerRoom $7.60
Another comfy and cute find. Again, full bum but no panty lines. Great for every day or special stuff too. Modest and sweet enough for a teenage girl. If any husbands are reading that are required to fill their wife's stocking, take note: this is the type of practical and pretty panties your wife will actually wear.
2xist Carbon Square Cut Trunk at HisRoom $22
Dudes need new underwear too! These boxer briefs look sharp, are comfy and are great for active guys. The wicking whisks sweat away and the fabric's infused with bamboo charcoal so it offers antimicrobial and anti-fungal properties. This is a loving, giving way to get him to stop scratching.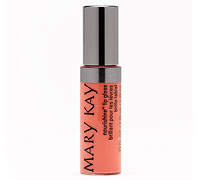 Mary Kay

®

Nourishine

™

Lip
Gloss $13
My all time favorite lip gloss. It smoothes and softens lips and the superlight consistency never feels sticky. The Melon Sorbet is the perfect neutral on all skin tones, and the other colors look great too when worn alone or layered over lipstick.
My Charme
d Life Luggage Charms $6 each
The My Charmed Life luggage charms are an easy and reasonable way to differentiate your tote, back-pack or suitcase from any others. Scrawl your contact info on the back with a Sharpie and tie onto your luggage with the bright grosgrain ribbon. Choose from various patterns and fonts. For the college sorority girls there are even Greek letter designs. A super useful stocking stuffer!
GIVEAWAY
Ethel Garden Gloves $18
This new line of stylish yet protective work gloves made especially for women's hands are a great gift for the green thumbed chick in your life or on your block. Tough, yet refined, they're made with four-way stretch Spandex and breathable, synthetic leather materials for flexibility and lightweight comfort. An elasticized extended cuff and reinforced fingertips protect. Machine washable for easy care.
Leave a comment below to win a pair in the Jubilee style for your lily-loving lady!
GIVEAWAY
Scandle Candle in Travel Tin $12.95
The Scandle is a candle that burns at 2 degrees above body temperature to produce a soothing oil for massage, manicures/pedicures or as a daily moisturizer. Made from 100% natural vegan ingredients including soy butter, shea butter, aloe vera, jojoba & vitamin E; The Scandle is the first candle that is healthy for your skin & the environment.
TEN lucky commenters will receive their very own Scandle!
Cinnabar bracelets, $4.50-$15 (shown are $8 each) at Leekan Designs For the fashion conscious gal this winter, the cheapest way to chic big chunky bracelets. Slip a few of these cinnabar bangles from Moroccan outpost Leekan Designs into her stocking and you're sure to impress.
Parfum Solids 6 for $36
from Fragonard
My sis-in-law introduced me to Fragonard Parfum Solids when she returned from teaching in Europe. And like my SIL, these babies are both chic and practical. The inch-and-a-half round little pots pack all the punch of a big atomizer and are ideal for travel. I love all the classic scents that are made from French flowers and herbs. I also like buying a six pack, breaking it open and sticking one or two in a stocking or holiday card for girlfriends.
eyeSlices
™ eye treatment pads $20
These are perfect for the tired, itchy eyes of my contact lens wearing, hardworking mom. Working like high tech cucumber slices, these eye treatment pads soothe the eyes and reduce puffiness, dark circles and wrinkles around the eye area. They feel absolutely heavenly. Pop the case in the fridge and place on the eys for 5 minutes a day. The pads should last 2-3 weeks if properly stored and rinsed. True spa relaxation in one's very own home...or bath!